Haka initiation: the Maori song that brings people together
Discover the Haka
The Haka is a dance and song performed by the Maori at ceremonies, welcome parties and before going to war. It has become world famous through the New Zealand rugby team, the All Blacks, who have been performing it before their matches since 1905.
This ancient tradition is deeply rooted in Maori culture and has been passed down from generation to generation. Originally, the haka was performed before battles to scare off enemies and energise the troops. Today, it has become a powerful form of cultural expression used at celebrations, sporting events and special occasions.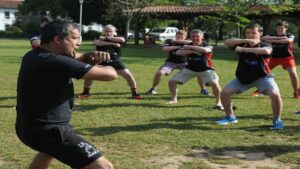 During your trip (cultural trip, business seminar or sporting trip), it's essential to create memorable moments that encourage group cohesion and the discovery of new cultures. One of the most memorable experiences is an introduction to the Haka. This traditional Maori dance offers a unique opportunity to immerse yourself in New Zealand culture and enjoy a dynamic, authentic experience.
With Esprit Basque, the Haka initiation boosts team spirit !